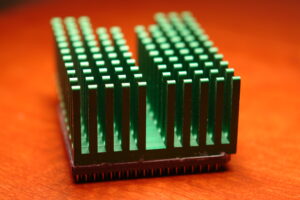 Having your needs met from the very beginning of a process is ideal in most situations. The same can be said for your thermal management capabilities, and nothing is more frustrating than having to go through heat exchanger after heat exchanger just to learn you need some other accessory or part to ensure optimal function. Indeed, not every technological device will benefit from the same thermal solution, meaning customization is important to consider. In today's blog, the team at Noren Thermal Solutions in Taylor, TX discusses how heat sinks utilize thermal dissipation to cool your equipment.
What is Heat Sink Thermal Management?
It goes without saying that among the many complications to production that could arise, overheating equipment is among the most common. Indeed, your industrial applications play an integral role in accomplishing your intended goal, meaning any instances of technological breakdown, overheating, and other issues can negatively influence your overall productivity. In cases such as these, it is beneficial to have a custom product that prevents increases in internal temperatures, but not many applications are designed with one in mind.
You see, a heat exchanger is a device that utilizes a method of heat transfer to rid an industrial application of waste heat, thus stabilizing the enclosure's internal temperatures and preventing overheating. When a product considers your unique parameters, you can expect a better overall experience compared with one-size-fits-all options. Fortunately, this is where our team comes in to help.
Indeed, one such popular option that utilizes environmentally-friendly methods involve heat sink thermal management. This device utilizes thermal dissipation to spread the waste energy throughout the sink base and out the perpendicular fins. To learn more about this process and how our team can help, give us a call today.
Applications that Can Benefit
A major benefit of a heat sink solutions is that they can be utilized in a variety of different applications throughout various industries. What's more? Our team will take care to work with you every step of the way so as to ensure a product that meets your needs precisely.
You see, your operation can benefit from custom options that not only meet your needs, but are environmentally friendly, sustainable, and cost-effective. Give our team a call today to speak to a representative about your options.
What Else to Know
Helping you achieve optimal productivity through thermal management is one of our passions, and we utilize ecologically-sustainable and simple methods to help you get the most from your industrial applications. Further, we will help you find the ideal option that utilizes your parameters to provide capacity use.
Learn More Today
Contact Noren Thermal Solutions in Taylor, TX by calling 512-595-5700 to speak with a member of our team and learn about the benefits of heat sink thermal management for your industrial equipment.