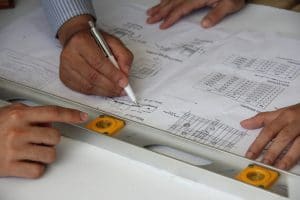 At Noren Thermal, our goal isn't just to provide high-quality products for nearly every application, but also to help clients save time and money at every step of the process. Noren's experts specialize in the design and manufacture of thermal management solutions, and our advanced facilities allow us to keep the entire process in-house. As part of our dedication to our clients, one of the most important services we offer is studying the feasibility of a custom design before it is finalized and manufactured. We'll create a solution that best fits your needs, and then test its effectiveness before you invest in building it.
Measure Twice, Build Once
Many of our clients come to us with no idea of their electrical systems thermal management needs, while others may bring along a design crafted by someone else. Before suggesting an initial design or recommending changes to an existing one, Noren's experts will conduct a comprehensive analysis of your system. From concept and product designs to testing and prototyping, we can make sure that your thermal management system will operate as expected, or better.
Feasibility studies are particularly helpful when designing an advanced thermal management solution for an electrical system that is already built and in place. Retrofitted cooling systems may not fit within the confines of the equipment, or may not operate as expected due to environmental factors or system incompatibility. Rather than scrapping the project and starting over, Noren helps clients save time and money by performing feasibility studies to ensure each solution works before implementing it.
Benefit from Noren's Custom-Designs and Feasibility Studies
Noren's advanced, in-house design and manufacturing, coupled with our detailed design analysis and feasibility studies, can help you save money by testing your design before investing in its creation. To learn more, call Noren Thermal, Inc. at 650-322-9500, or toll-free at 866-936-6736. Located in Menlo Park, CA, Noren proudly produces all of our products in the United States and delivers them to clients nationwide.